Vietnam is not only beautiful, the food is amazing. And if you're a foodie like me, you will love it! The food in Vietnam is world famous, but you should have an idea what to look for in particular. I usually visit Vietnam once every 3 years, but last year was the first time in 24 years we went with the entire family and it was food heaven. We had great laughter over so many meals and you should too when you visit Vietnam. Here are my top four must eats!
#Banh mi shops
The French are possibly the most renowned for their breads, so as a former French colony, the Vietnamese know how to make amazing sandwiches as well. In any town or city you go to in Vietnam you can find food stalls with the best sandwiches. Usually with grilled meats, fresh lettuce and coriander.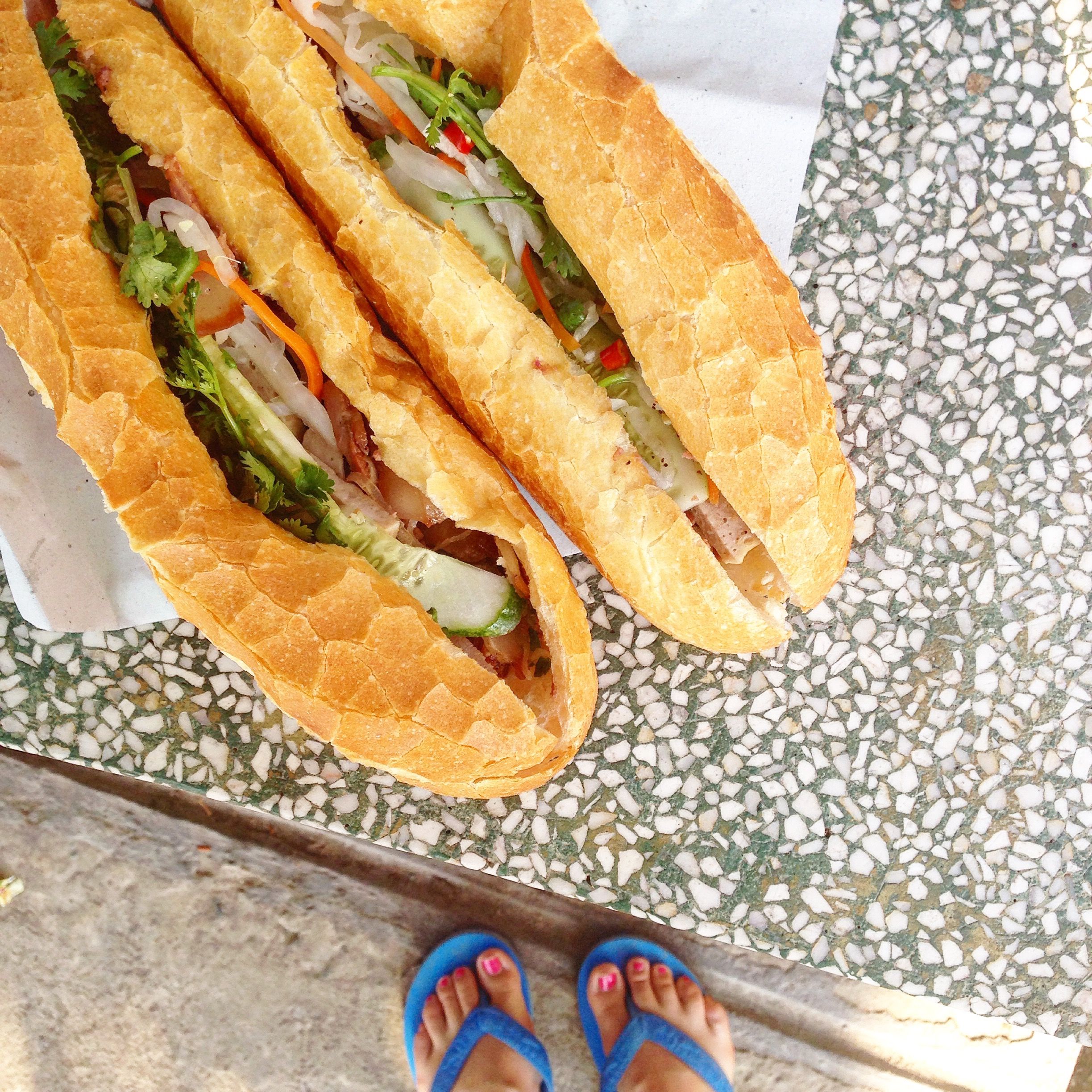 Featuring my pink toe nails.
#Cafe sua da
The Vietnamese are the 2nd largest coffee producer in the world, so it goes to say they know a thing or two about drinking coffee. In western countries we are used to drinking our coffee lattés with creamed milk. But let me tell you the big secret: Condensed milk. This sweet sister will take your coffee experience to a whole new level.
The coffee is filtered with a practical little tool which released drops of hot coffee slowly in your glass, with a layer of condensed milk on the bottom (look how foodporn proof that looks like). Once the glass is filled, stir, ad a lot of ice. Take a sib, welcome to the club of ca phe sua da junkies. Your life just changed.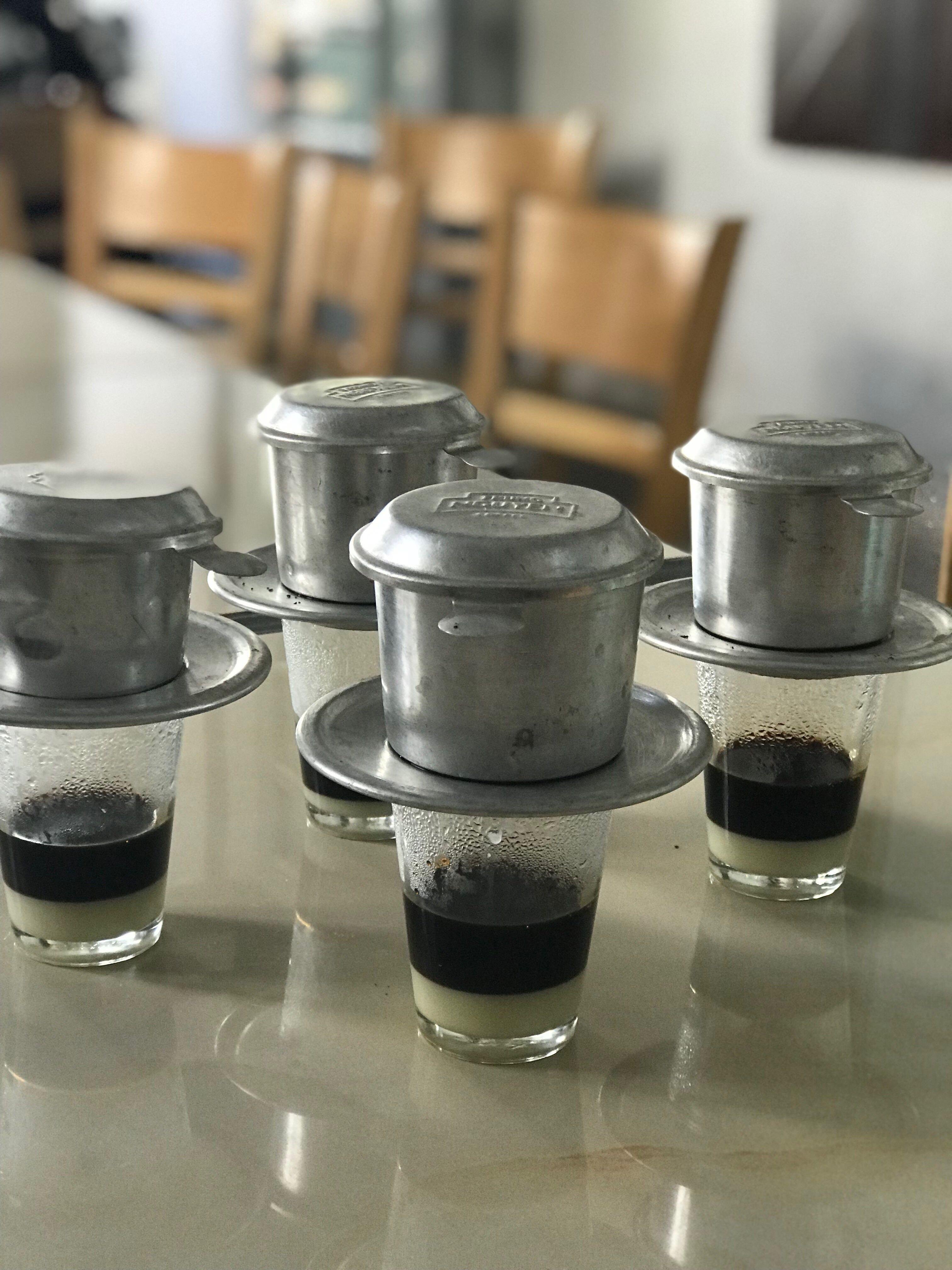 #Banh Xèo
When I first took The Blue Suitcase to Vietnam, he had never tasted banh xèo before. You should have seen his face when he had his first banh xeo. I think I broke his trust at that moment. He looked at me with this eyes full of doubt and unbelief before asking why the heck didn't I show him this dish before. My brothers surprise and encouragement of this feeling by adding 'Yo, what did you let him eat whole year men', didn't improve the situation.
Anyway,  go eat it when you are in Vietnam. It's a Vietnamese version of pancakes, made of rice flour, water and turmeric powder. Naturally it is filled with our favorite veggies, and meats or sea foods, which you dip in one of our sweet sour fish sauce.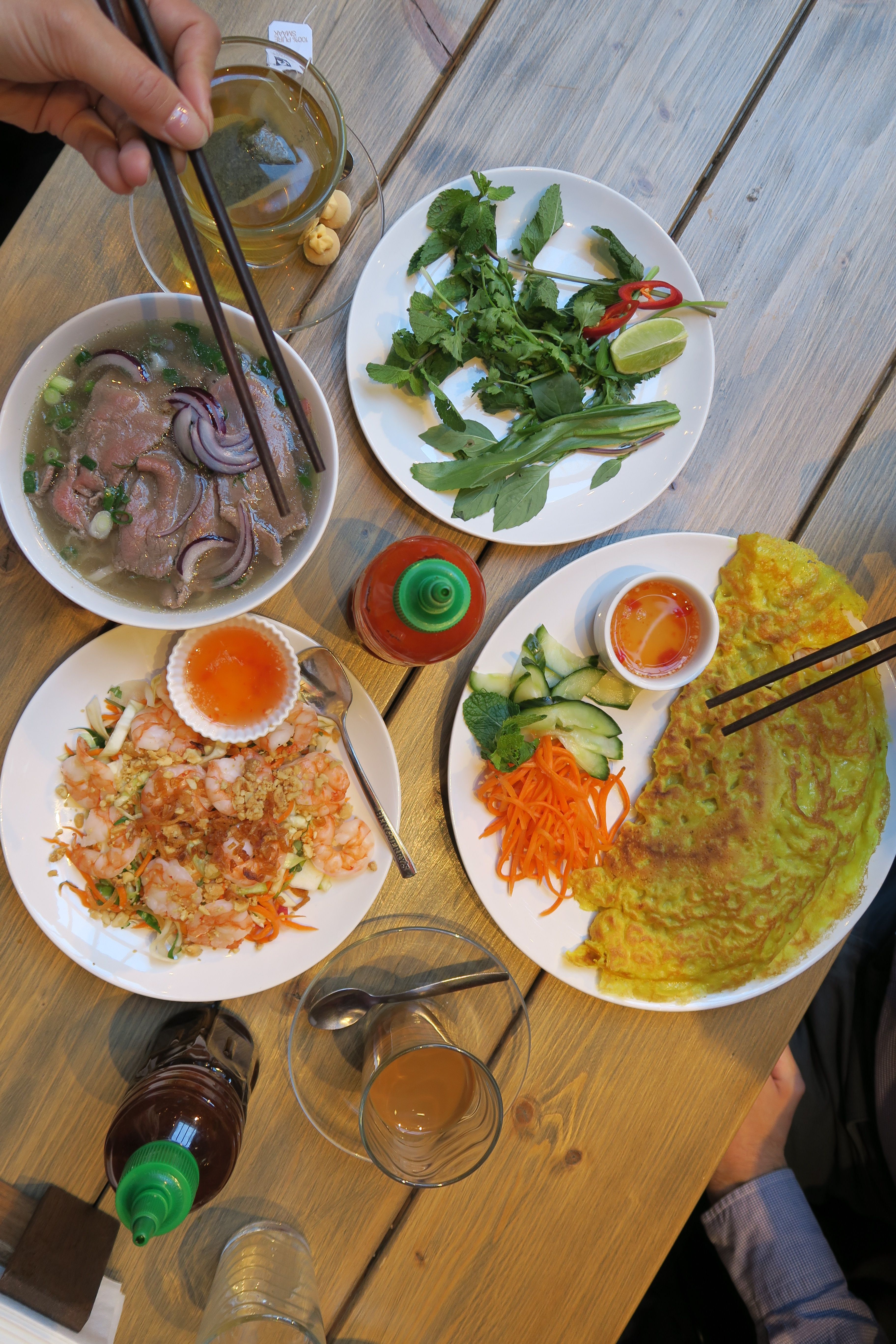 #Pho
Of course I cannot leave out Pho from the list, which is the national dish of Vietnam. My mum still use it as a blackmail if she wants to see me. 'I made pho this weekend, are you sure you don't want to come home?'
This is a soup made of beef broth, garnered with coriander, anise, onion, cardamom, peppers and other small ingredients, with usually oxtails, beef bones and steak, and noodles. Of course the ingredients may vary. Usually you have a hoicin sriracha sauce on the side as well for the dipping the meats. The quality of the pho is highly dependent on the duration; the best phos are usually prepared from 6-10 hours to several days in advance, to ensure the marrow in the bones are dissolved in the water
Since I also have to make money to buy more Chanel handbags, I also discovered lazy options: instant noodles variations. Not as good, but if you pimp it a bit with beef balls and stuff, it will still your craving until the next visit to mums or Vietnam.